Community Manager
Grepolis Team

Dear players,
We have planned a new contest for you! This time we've chosen
Word Search
. Do you want to know what this contest is about? Sign up, and win great prizes.
How can I participate?
To participate you need a game account and a forum account. You don't have any account? Then you can create
here your game account
(click) and
here a forum account (click)
! When you have a (created) account, you have acces to the
subforum for your answers (click)
. In this forum you can post your answers for this contest by creating a topic with the title of your ingame name.
What is the purpose?
You have to find 10 hidden Grepolis words and send us a screenshot with the names marked. Send us the correct answers in the
entry section
.
Duration of the match
This contest starts on
Tuesday June, 22nd
and will end on
Sunday June, 27th
.
Rules
Each player may only participate with one account. Multiple entries are not possible.
Please, open ONE thread only on the entry section.
As usual, members of the Grepolis Team are disqualified.
Talking is not allowed. If we suspect that responses be communicated we may decide to cancel or exclude players throughout the contest participation.
It is not allowed to change your answer.
Prizes
5 prizes will be randomly given among the players who send us the correct answers.
Random 1: 600 gold
Random 2: 600 gold
Random 3: 600 gold
Random 4: 600 gold
Random 5: 600 gold
Assignment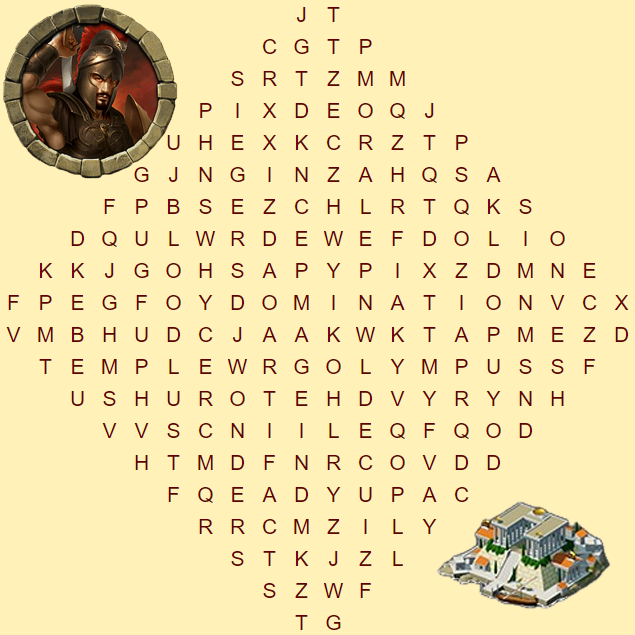 Regards,
Your Grepolis Team

​